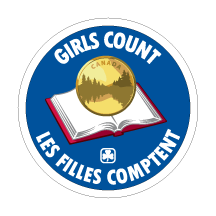 After several years of testing the National Girls Count challenge is finally available to everyone.  It is intended to bring greater financial literacy to all levels of Guides.  The challenge is presented as a series of instant meetings with a different one for each branch.  All the outlines can be found on the Girls Count page.  There is also a background information sheet for the Guiders that includes a cross reference with the program.  The challenge is set up so that Guiders can run it themselves, but they are encourage to invite expert guests in to help.
All the of challenges are divided into three themes:
Currency Awareness
Purchasing Power
Money Management
Crests can be bought from the national shop.