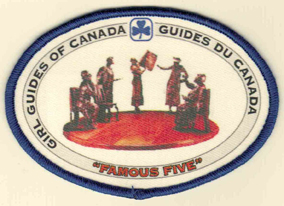 This week to celebrate International Women's Day we completed the Famous Five Challenge from Alberta.  While the girls were in their patrol corners we distributed copies of the Famous Five word search  (from the Famous Five Supplement) for them to work on as a group.  After horseshoe we talked a little about how January 2016 marked 100 years since the first women in Canada were legally allowed to vote. We introduced them to the Famous Five and the Persons Case.  Next we read the interactive story found in the Famous Five Supplement.
Then we moved out of horseshoe to a table we'd set up with a lace table cloth and a pretty pink centerpiece.  We had speakers set up so the girls could listen to the audio from Famous5.ca about the pink teas.  Then we let each girl help herself to can of pink grapefruit juice and told them to break up into groups of four or five and hold their own pink tea.   What women's issues did they want to discuss and what changes did they want to see in the world?  We came back together as a group after they'd had time to discuss to find out what they'd been talking about.  A number of the girls talked about rights of women in other countries and how they didn't have the same rights we have in Canada.  Other groups talked about how girls sports are often over looked and the absence of girls and women in many action figure and other toys.
We wrapped up the evening by learning  to sing Can a Women and If I were not a Girl Guide (we choose all career verses).