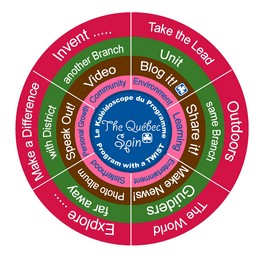 The Quebec Spin Challenge, isn't like most other challenges.  It doesn't suggest activities around a theme but rather promotes a tool to putting a twist on your ideas and activities.  It can be used to encourage girls to build on their own ideas, recognize an activity that doesn't quite fit in the program or to put a new spin on an annual event.
The challenge is a based around the spinner (left) and requires you to pick one action, participant, sharing and side benefit for your activity. Full instructions can be found in the information kit.
The challenge crest is designed so the girls can get the center crest for their first spin and can earn subsequent crests to add to it (in a variety of ways) for other projects.